Redux 4.0 is a complete re-imaging of what Redux can do. From it's previous focus on only developers to a full 180 focusing on bringing templates to the masses.
Now it's easier than ever before to build beautiful block-based templates fast, coming with hundreds of templates all ready to be imported with a click of a button, Redux makes working with the block editor easy.
That's not to say Redux isn't still perfect for developers too, but now rather than being only for developers Redux is for everyone.
In this article we'll be taking you through what Redux is, where Redux is going and what's new with Redux 4.0.
What is Redux?
You might already be familiar with the name Redux, after all it has over 900,000+ active installs and powers of plugins and themes built by developers worldwide.
Redux made the complex simple. Building admin options for plugins and themes and then later making the customizer a breeze to work with from a developer's point of view.
Then Gutenberg came to the forefront and Dovy, the founder of Redux, came to believe the days of an option framework were limited. After all Gutenberg, which became the block editor, was gunning for page builders and themes, so what should he do?
With a background in big data Dovy knew there was a better way to build templates and get everything the user needs in one place rather than having to manually install endless plugins and sift through hundreds of blocks.
Redux Reimagined
Redux is now the easiest way to use the block editor containing the largest library of block templates over any other plugin.
So what can you do with the new Redux?
Import over 1,000 templates for the block editor in a click.
Preview templates before installing to make sure they're right for you.
Install any dependencies needed — for example, some templates may require specific block plugins. Redux takes the heavy lifting on and installs everything you need automagically.
Keep your ever-changing Google Fonts up to date with our Google Fonts update service
Picture this, you need a website and you need it fast. Like formula 1 racing fast, so you install Redux, find the perfect template. Hit import and you're done! In less than 3 clicks and a few minutes, your site is ready.
Simply replace any pictures you want, add your text and away you go.
Redux cuts your development time down drastically.
Beautiful Templates
Redux includes hundreds of templates and sections that you can import with a click of a button. Building a block powered website has never been easier.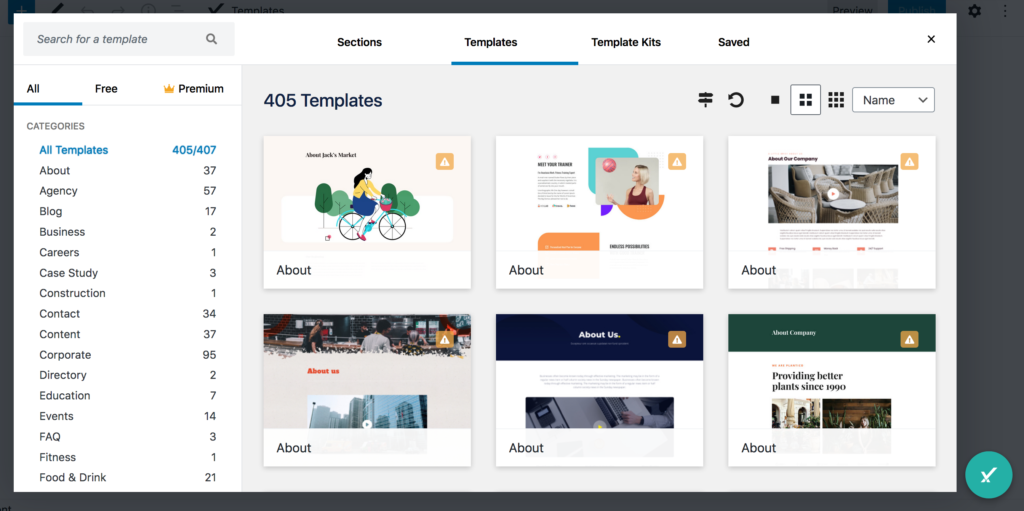 But it's not just templates you can import with Redux, it's also sections and template kits, so what's the difference?
Redux Sections
Sections are like parts of a page that you can import into existing content. Say you have the perfect about page already designed in the block editor but want to add an FAQ? Then use Redux to add an FAQ section appended to your content.
Quick, easy, and simple.
Redux Templates
Templates are single-page templates that can be imported into your site. They range from about pages, to archive pages and more.
These are fully featured pages all professionally designed that you only need to swap out the images (if you want), replace the text and you're good to go!
Redux Template Kits
Template kits are full websites built in the block editor. They consist of multiple pages that once imported gives you a full-blown website. At a minimum, a template kit includes:
But many of the included template kits include over 7 different page templates for your business.
Yet the real standout feature of Redux, no lock-in! Lock-in happens when you use a page builder like Divi and then you change to another page builder but your text is wrapped in shortcodes that no longer work.
Instead with Redux and the block editor, if you deactivate Redux your page template still works, your site content isn't impacted. Pretty impressive right?
Redux For Developers
Developers, Redux hasn't left you behind. The options framework and everything you know and love is still inside Redux, you don't need to go and re-code all your plugins and themes, you don't need to spend hours deep-diving into documentation it's just business as usual.
In addition our pricing model has drastically improved for you. With our Expert license you can not only embed Redux in a product, but you also get all the premium features Redux has to offer.
The Future of Redux
It took us over 2 years of development to get where we are today with Redux 4.0. Over the coming weeks, months and years the block editor is only going to gain traction in WordPress and that's where we're expanding our efforts.
We'll be listening to users and closely following all block-related developments with WordPress core and the wider ecosystem to come up with new and cutting edge developments for Redux.
Needless to say, we aren't abandoning anyone. No. Instead we're widening the net and helping end-users, developers, and designers build sites faster than ever before with the block editor.
Ultimately Redux will become (if it isn't already) a must-have plugin for any block powered WordPress site.
Wrapping up
Redux 4.0 has been more than 2 years in the making and I'm pleased you now finally have the chance to use this powerful software to build your next block based site.
What would you like to see us add to Redux? Have any questions about Redux? Let us know in the comments below or shoot us an email at hi@redux.io.